Our long trajectory and experience in the sector goes together with excellent treatment and the maximum seriousness, discretion, presence, and cleanliness.
Flood Brothers, is a company specialized in office installation systems, coordinating all the necessary work to set up your new business or move your offices to a new location. For this we have an extensive experience of over 25 years, ensuring the satisfaction of our customers during all stages of the process.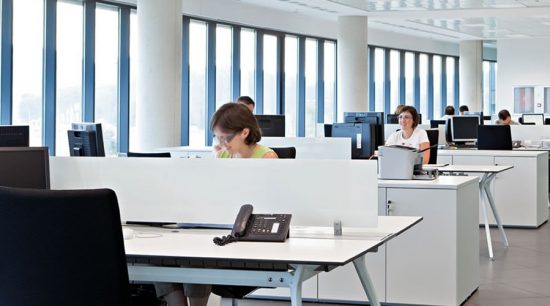 What is an Office Furniture Installer?
An office furniture installer is knowledgeable about different types of office furniture from different furniture manufacturers (each of which has its own design specifications and installation quirks.) Installers also are familiar with the many important details involved in making sure furniture is functional within a space.
An office furniture installer understands all of the steps that must be taken when moving or reinstalling furniture in large and small offices, complex educational buildings, hospitals, restaurants, etc. They don't simply move furniture from point A to point B; they provide important feedback and advice to clients (such as evaluating a space's electrical wiring and identifying the best way to provide access to workstations' electricity needs.) And, of course, office furniture installers install new furniture, disassemble furniture when it needs to be moved, and reinstall furniture when it has been relocated to a new space. They have the tools, knowledge, and experience to help ensure that an office move or relocation goes smoothly and is completed on time.
How Flood Brothers Office Installation Happen?
Office furniture installation requires so much more than just office movers. You need a team of office furniture experts who understand all aspects of moving/installing an office on-time and on-budget. There are many things to consider such as:
Flexing to actual site dimensions versus what was planned
Power and data access
Cable management including grommet drilling
ADA requirements
Retrofitting existing furniture to fit in a new space
Wall-mounting products that may require specialty knowledge, tools, or experience
Working with other trades in space at same time
Last minute customer changes/requirements
Assembly and Disassembly of Offices
Business environment.
Optimize and professionalize the space.
Combine comfort, utility, ergonomics, and image in your workspace and make it an extension of the company's values.
We have a furniture assembly and disassembly service for any type of office.
Our professionals perform disassembly of any type of furniture for its subsequent packing and transportation locally and nationally. We assemble all types of furniture according to customer needs as well as advice on workspaces.
Our staff of assemblers will take care of everything so that your only concern is where to place your objects.
Remember that disassembling a piece of furniture is relatively simple, the complicated part is to reassemble it in its new location, leaving it well adjusted. There are pieces of furniture that require adjustments and trimming in order to fit them into your workspace.
Installation of custom-made furniture.
Installation of office furniture in general: offices, tables, chairs, cabinets, filing cabinets.
Creation, design and installation of stands for fairs and exhibitions.
Flood Brothers is a company that specialized in office design and office systems installation. It is a manufacturer of partition walls or office partitions, for which it has its own qualified staff, with extensive experience and efficiency. All our range of partition walls are made with national raw material, and with the best labor.
Work Spaes
If you have an office where everything is in its place, you will easily find what you need.
In a well-organized office, table or desk, space is taken advantage of and gives a feeling of spaciousness that naturally improves the harmony of the place.
In the working world, a tidy person is always seen with better eyes, and this quality is passed from one employee to another, generating a professional work environment.
Maybe you have already noticed it, or maybe not, but having the space where we work full of things we don't use, such as dead files, computers or office supplies, etc. and in disorder can generate feelings of chaos that derive in stress. A disorganized workspace can lead to a disorganized mind.
We rarely pay attention to all the polluting elements that surround us, and although for some people order is an innate quality, most people find it difficult to keep things well organized.
Research, such as the one conducted by Kimberly-Clark Professional, shows that employees prefer to work at a clean and tidy desk and office;
A tidy workspace not only helps make employees more productive and improves the work environment, but also helps reduce stress and conflict in the company; a clean and tidy work environment is key to employees' need for well-being.
Entertainment Centers
We have for you several services that will help you in the assembly or installation.
Pre-measurement and verification. Necessary for the installation.
We also have a service of dismantling and removal of the old flooring, as long as you have contracted with us the installation of the new flooring.
We offer you a professional assembly service for your furniture, carried out by the best specialists. They will assemble your furniture in the room of your choice on the same day of delivery, strictly following the instructions and safety measures; and they will carry out the fixings and anchoring to the wall as indicated in those instructions. In the end, the packaging is removed for recycling and everything is clean and as good as new.
Local and Nationwide Office Furniture Installation
We are located in Atlanta and Nashville and service the Atlanta and Nashville metro area and all region. We are also available for your key installation projects throughout Nationwide.
Whenever you may have a need to coordinate nationwide office relocation, systems furniture installation, office reconfiguration or asset management outside of our direct service sector, we will serve to help answer your overall needs. For further information concerning our nationwide network, contact us for work through our Contact Form.
If you have any questions or are interested in our office systems installation services we are ready to help you. Request a quote by calling us at +1 (866) 528 9137.